Explore Best Places In Qatar
Find some of the best tips from around the country from our partners and friends.
Qatar is a wonderful destination for both young and old due to its futuristic skylines, dazzling beaches, historic landmarks, and large desert oasis.
In Qatar, the contrast between modern and traditional has never been so pronounced. Discover historical forts and medieval homes alongside glittering skyscrapers and opulent buildings. In addition to desert safaris and an abundance of cultural treasures, visitors will pleasure in the country's dynamic dining and retail scenes.
Visit Doha, a world-class city with a burgeoning culinary and artistic scene. Explore one of the finest collections of Islamic art and antiquities in the world at the Museum of Islamic Art. The Doha Corniche is a waterfront promenade with breathtaking views of the city.
Souq Waqif is a lively market that sells handicrafts, perfume, and jewelry. The market is a labyrinth of shops. Local restaurants in Doha feature traditional Qatari cuisine, like machboos (a stew of rice, fish, and spices eaten with yogurt) and ghuzi (whole roast lamb on a bed of rice and nuts).
Katara is a purpose-built development showcasing regional design where you may spend a few hours enjoying the beach, restaurants, and theaters. Visit the Pearl-Qatar, an artificial island located off the shore of West Bay that is home to exclusive boutiques, restaurants, villas, and hotels.
The Al Zubarah Fort is one of the best-preserved instances of an 18th-century village in the region, where you may marvel at its archaeological remains. Take a four-wheel drive across the sand dunes to Khor Al Adaid, a calm creek near the Saudi Arabian border, for a more thrilling experience. Spend the night camping, then engage in sand skiing and four-wheeling. Nearly 900 petroglyphs can be observed in Al Jassasiya, an additional desert attraction.
Paddling through the Al Thakira Mangroves, visitors can observe flamingos and herons. Hikers frequent the lunar scenery of the Ras Abrouq Rock Formations, renowned for its sandy beaches and wild deer refuge.
Take a bus from Doha's Hamad International Airport into the city. To visit isolated sections of the country, rent a car or employ a driver. Visit during the fall months for cooler weather and less humidity.
Qatar is more than just Doha, its main city, and how it has preserved its tradition while embracing the modern. It's not just about modern architecture and skyscrapers; it's not just about museums and beaches; it's not just about artificial islands and man-made hills. There is much more to this small yet dynamic nation. Qatar is a destination where you can have it all, thanks to its long, pure, and stunning coastline and year-round weather.
Qatar is where traditional authenticity meets modernity, where the sand meets the sea, and where people gather to experience unique cultural, sports, business, and family entertainment options.
Qatar is a country where tradition and modernity coexist. It is a country whose people are firmly entrenched in their tradition while keeping an eye on the future and Qatar's expanding position in international business, politics, and education.
Archaeological monuments and artifacts are painstakingly unearthed and cared for, kept in-situ or housed in museums out of reverence for the nation's past. There are neolithic rock engravings, modernist buildings, and gentle Dugongs in Qatar's shimmering seas. Here, antique structures are in close proximity to world-class museums, gleaming shopping centers, desert adventures, and international sports stadiums.
The country's maritime history reveals itself now in an enduring respect for the crystalline waters that surround the peninsula. Fishing is a popular pastime, and fans can participate in a variety of water activities. From kayaking through the Al Thakira mangroves to experiencing the thrill of a desert safari while admiring the magnificence of the Inland Sea to unwinding on the beach, Qatar provides visitors with several opportunities to reconnect with nature.
Qatar offers thrills and unique experiences for everyone. It provides a window to the past as well as a glimpse into the future, all while maintaining the renowned Arabian hospitality.
Explore Best Places
Catalog of Categories
Choose a category and discover interesting places in Qatar
Qatar Travel Guide
Discover & Explore
Everything you need to know about Qatar before your trip
What began as a fishing and pearl-hunting community gained independence from the British Empire in 1971 and became a sovereign nation. Subsequently, Qatar became a highly developed nation due to its abundant oil reserves. Qatar's Human Development Index in 2019 was 0.848, which indicates a very high level of human development.
The sophistication of Qatar's skyscrapers and contemporary art works, especially in the capital city of Doha, would astound any visitor. The Mathaf Museum of Modern Art, situated in the center of Doha, provides evidence of this. Other architectural marvels, such as Force of Nature and the Golden Thumb Statue, are just as impressive.
Qatar, however, consists of more than what meets the eye. There, you may immerse yourself in the country's historical and cultural treasures by visiting one of Doha's various museums. Not to be missed are the National Museum of Qatar, Msheireb Museum, and Museum of Islamic Art.
In addition to preserving its natural landscapes and wildlife beyond the city limits, Qatar has also protected its natural scenery. In addition to the beach enclosures surrounding the Persian Gulf, the Zekreet rock formations, caves, and sinkholes in Musfur are distinctive elements of the Qatari terrain. Therefore, this country in West Asia offers a variety of exciting activities. You can select from desert safaris, beach holidays, cave excursions, and wildlife discovery, among other options.
The cuisine is diverse, and you can expect to find a little bit of everything. But sampling authentic Arabic cuisine in Qatar should be at the top of your agenda. The Falcon Souq offers the most authentic native experience in the city.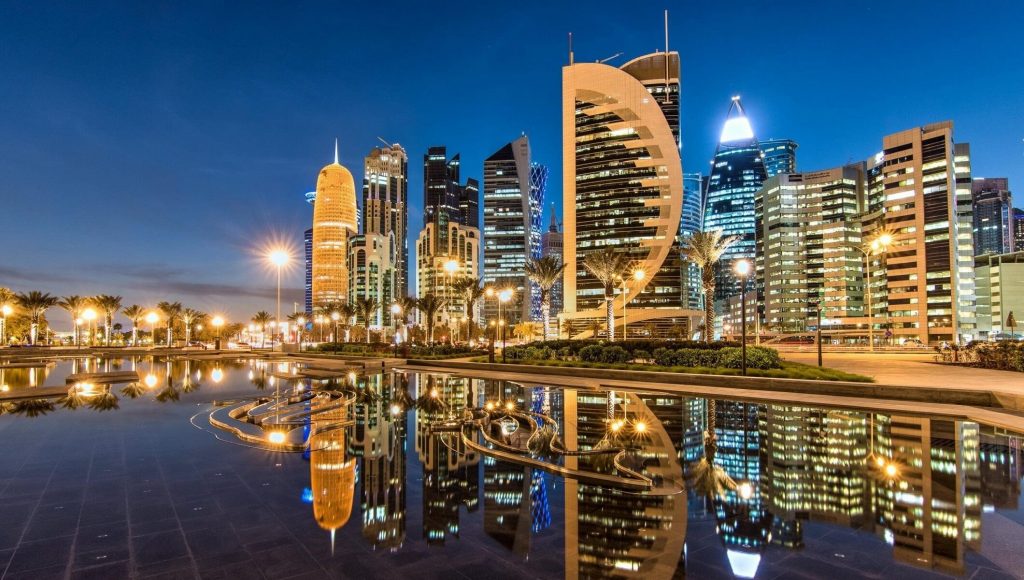 Things To Know About Qatar
Qatar, formally the State of Qatar, is a sovereign nation in Western Asia that occupies the tiny Qatar Peninsula on the Arabian Peninsula's northeastern coast.
It shares its only land boundary with Saudi Arabia to the south, while the remainder of its area is encircled by the Persian Gulf.Qatar is separated from the neighboring island nation of Bahrain by a strait in the Persian Gulf, and it has maritime boundaries with the United Arab Emirates and Iran.
Following Ottoman control, Qatar became a British protectorate in the early twentieth century until achieving independence in 1971. Qatar has been governed by the Thani family since the early nineteenth century. The State of Qatar was founded by Sheikh Jassim bin Mohammed Al Thani. Qatar is a hereditary monarchy ruled by Emir Sheikh Tamim bin Hamad Al Thani.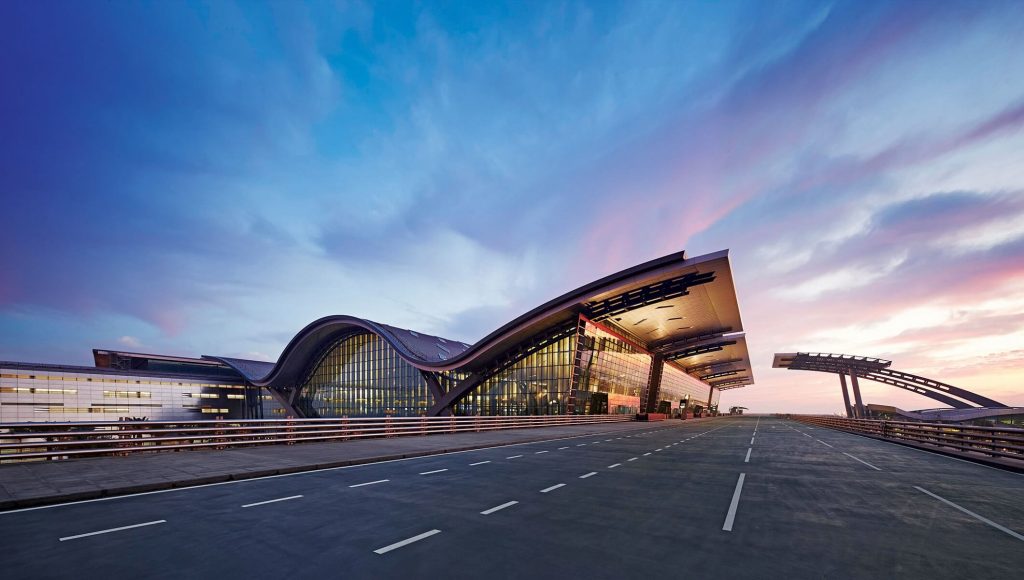 Entry Requirements For Qatar
Qatar issues a 30-day visa on arrival at Doha Airport to nationals of the following countries: Andorra, Australia, Austria, Belgium, Brunei, Canada, Denmark, Finland, France, Germany, Greece, Iceland, Ireland, Italy, Japan, Liechtenstein, Luxembourg, Malaysia, Monaco, Netherlands, New Zealand, Norway, Poland, Portugal, San Marino, Singapore, South Korea, Spain, Sweden, Switzerland, USA and Vatican City. 
Citizens of the Gulf Cooperation Council (GCC) countries, namely Kuwait, Bahrain, Oman, Saudi Arabia and the United Arab Emirates, do not require a visa to enter Qatar.
For other nationalities, the visa process can be complicated as you need a guarantor on the Qatari side, be it a company or a government entity.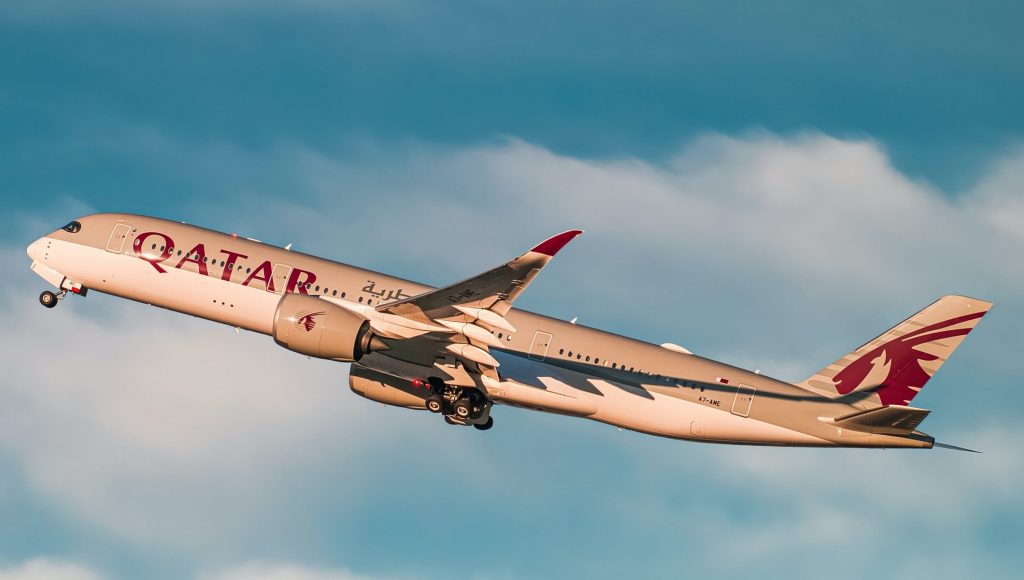 In the past ten years, air travel into Qatar has greatly increased. Most tourists will arrive at Hamad International Airport (DOH IATA), which is close to Doha.
The 124 locations served by the state-owned flag carrier Qatar Airways' extensive network of flights departing from its hub in Doha. In fact, it is one of the very few airports providing non-stop service to every continent with a population. Other significant airlines also use the airport, frequently operating a route between Doha and their home base nation and Doha.The base rate for a taxi from the airport is QR 25.
Flydubai offers direct flights from Dubai, for all UAE travellers who wish to travel to Qatar.Qatar Airways offers both direct and connecting flights from some big cities in the UAE, including Dubai, for all UAE travellers who wish to travel to Qatar.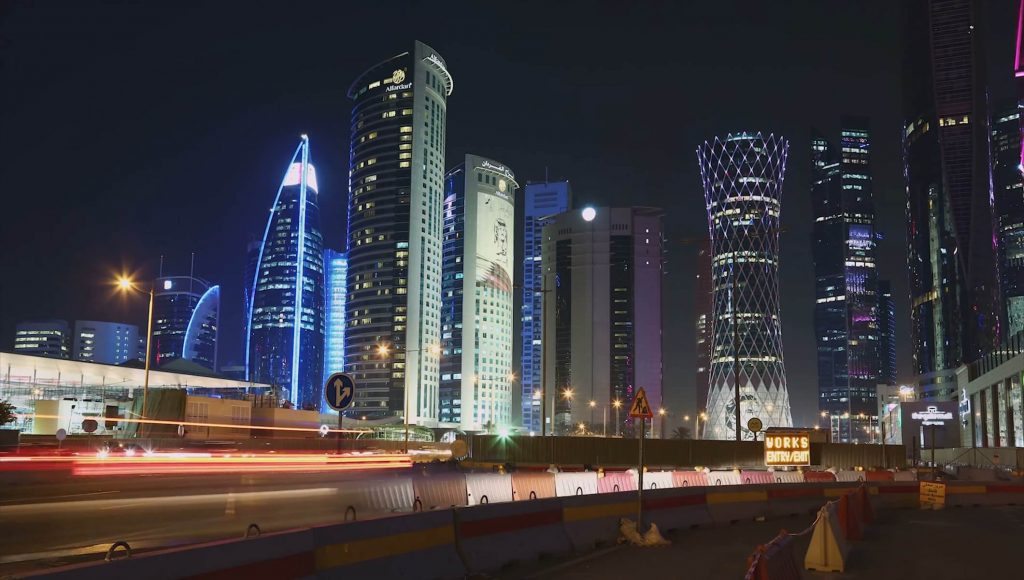 How To Travel Around Qatar
There are three types of public transport in Qatar: buses, taxis and limousines, all owned by the state-owned company Mowasalat (Karwa), with the exception of some private limousine companies.
The Qatar Metro is one of the most convenient and comfortable methods to commute throughout the country. The Doha Metro system provides access to all World Cup 2022 stadiums as well as numerous other popular attractions. 
The public bus services in Qatar are an economical and convenient way to travel throughout Qatar. 
The taxis are easily recognisable thanks to their uniform light blue colour with brown roofs.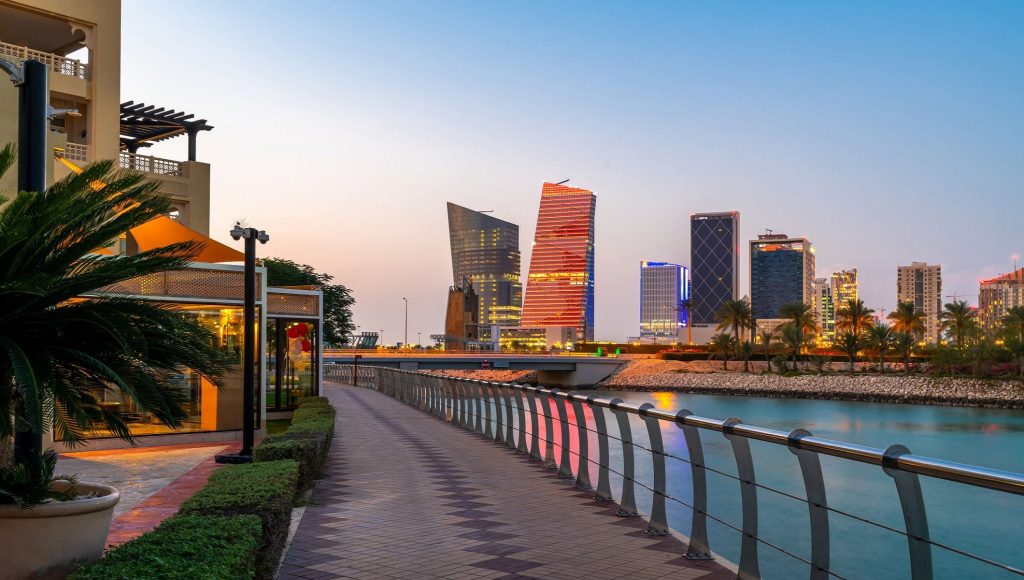 Qatar is peppered with numerous small cities and towns, some of which are port towns, while others are more prominent due to the thriving oil and gas industry in these locations. Visitors will see damaged and abandoned villages, archaeological sites that provide a glimpse into the history of the region, inlets, islands, natural mangroves, golden sands, blue-green waterways, and much more.
Al Khor is a city in Qatar's northern parts. It is the municipal center of Al Khor and Al Thakira and one of Qatar's major oil and gas hubs. The city was founded in 1972, and pearl selling was one of Qatar's main sources of income at the time. Al Khor began as a small and isolated hamlet that relied on fishing and pearl diving for a living, but it has grown to be one of Qatar's largest cities after Doha.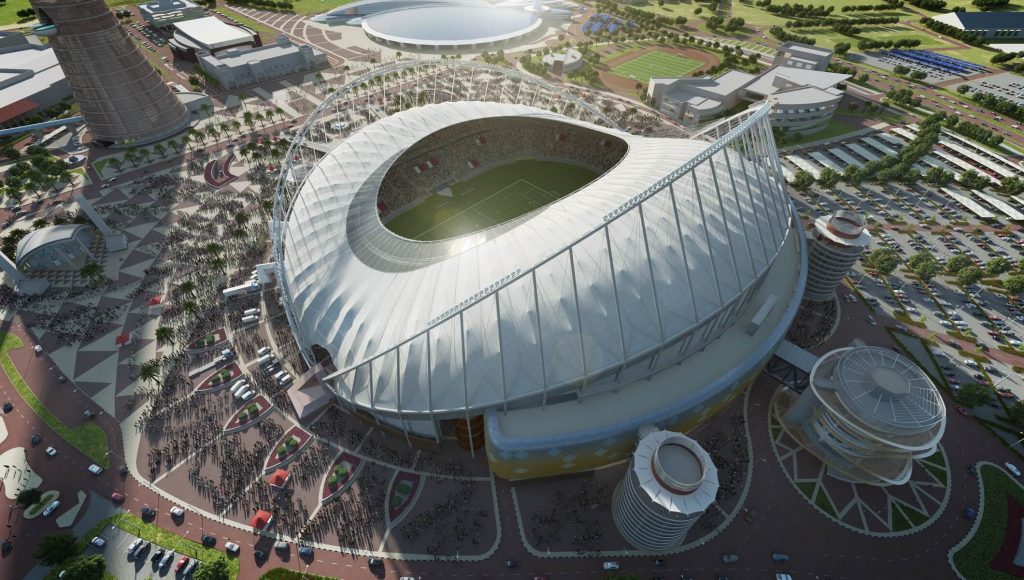 FIFA World Cup Qatar 2022
The 2022 FIFA World Cup will be the 22nd edition of the FIFA World Cup, the quadrennial international men's football championship contested by the senior national teams of FIFA member countries. It will be held in Qatar from November 20 to December 18, 2022. This will be the first World Cup held in the Arab world. Furthermore, the tournament will be the last to feature 32 teams, with a 48-team increase planned for the 2026 tournament in the United States, Mexico, and Canada. Due to Qatar's extreme summer heat, this World Cup will be hosted from late November to mid-December, making it the first tournament not to be held in May, June, or July and to be staged in the northern autumn; it will be played over a shorter span of roughly 29 days. The tournament begins with a match between Qatar and Ecuador at Al Bayt Stadium in Al Khor. The final is scheduled for December 18, 2022.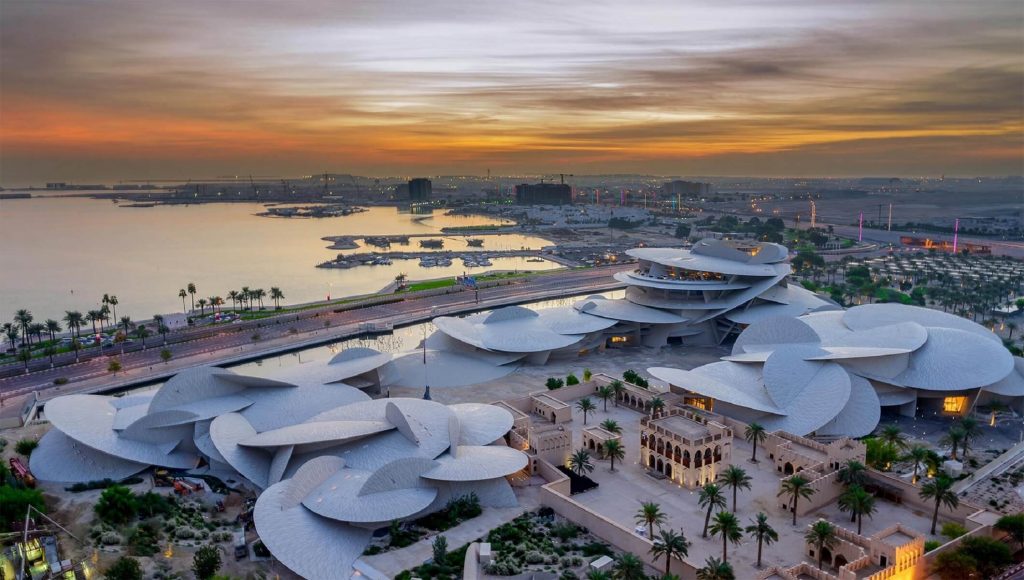 The history buff will not be disappointed, with a selection of ruins, rock art and museums to keep the mind wandering. The most famous is the archaeological site of Zubarah, which contains the remains of a once thriving port city. An early 20th century fort still exists and bears witness to a bygone era in the form of a museum.
The petroglyphs of Al-Jassassiya in north-eastern Qatar are a remarkable site with 900 petroglyphs believed to date back to the ancient tribes that inhabited the peninsula in the 15th century BC.
There are a number of forts and towers throughout the country; most of them have also been restored as museums. On the outskirts of the city of Umm Salal Mohammed are the Barzan towers, built to protect the country's rainwater basin. Another defensive watchtower is located in Al Khor.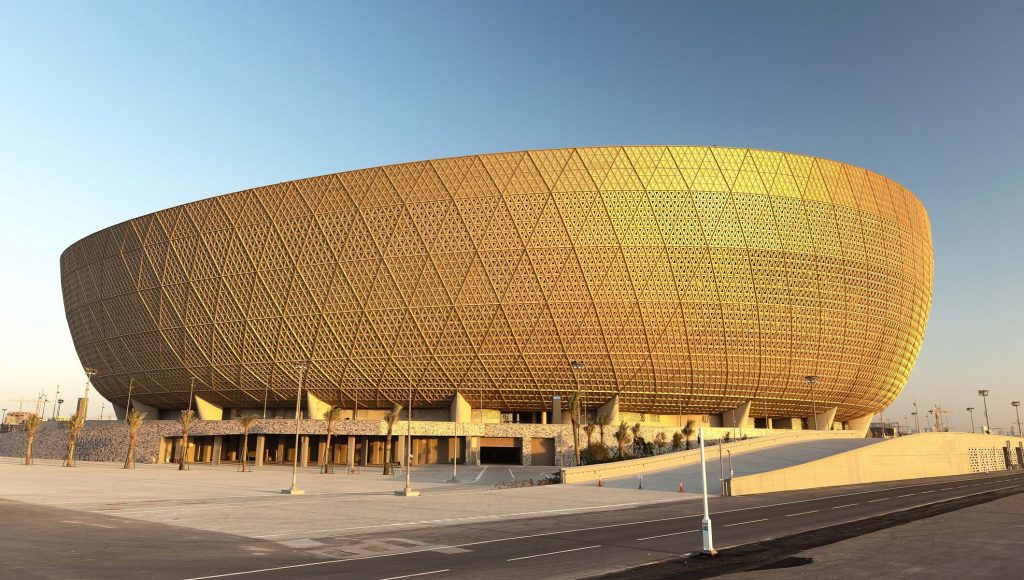 Visitors have a wide variety of options, including museums and art galleries, marketplaces, sports, safaris in the desert beside the stunning Inland Sea or the UNESCO-listed Al Zubarah Fort.
A good activity for tourists is simply to experience the country's tradition. The traditional way of life of the Qataris was simple: Bedouin nomads roamed the desert with their camels, and fishermen searched the seabed for pearls to trade. Although these two ways of life have largely disappeared in the peninsula, the government has taken some steps to preserve their traditions for future generations.
Many tourism companies organise expeditions into the desert, both in4×4 and on camel back. Some last only one day, while others can last up to a week, with hikers staying overnight in Bedouin tents.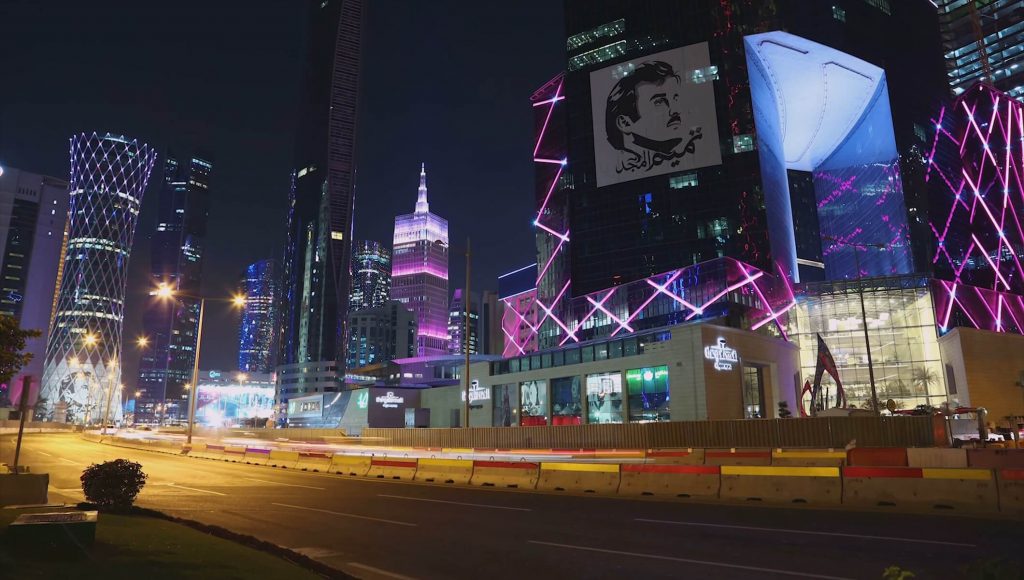 Money & Shopping in Qatar
Even though an espresso in the National Library costs QAR15, Qatar may also be very affordable (a good meal in a local restaurant is the same price). Costs in touristy regions are typically higher. Oil is inexpensive.
The national currency is the Qatari Riyal (QAR). The riyal is pegged to the US dollar at a rate of QR 3.64 per US dollar. One riyal is divided into 100 dirhams, with coins of 1, 5, 10, 25 and 50 dirhams. The riyal is available in denominations of 1, 5, 10, 50, 100 and 500 notes.
Qatar is filled with upscale retail places. Take your pick and feel like royalty while wandering around Doha's finest shopping destinations, which feature some of the world's finest brands, experiences, and services.Regular international names like H&M, Zara, and Mango can be found in many of the malls in Qatar.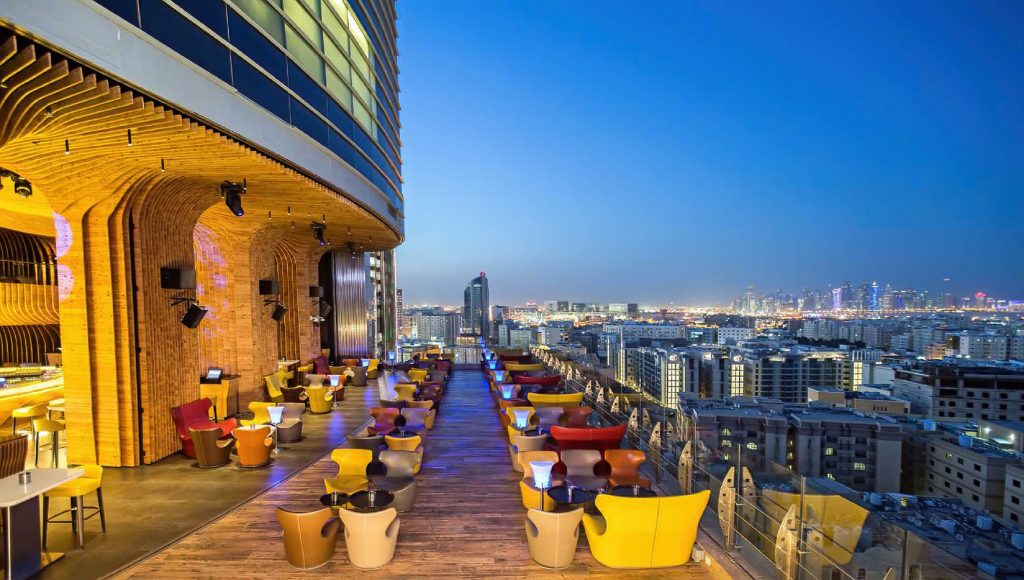 Qatar has a seemingly unlimited choice of food, many of which are excellent. If you want to try European cuisine in a refined setting, go to a hotel like the Ramada or Marriott, both of which offer excellent sushi and the option of alcoholic drinks with your meal (the only restaurants in the city that can do this are the big hotels), but at a high price.
Authentic and delicious Indian and Pakistani food can be found all over the city, from family-friendly places to very basic restaurants that cater to Indian and Pakistani workers. .
Qatari cuisine is based on traditional Arab dishes. Machbs, a meal of rice, meat, and veggies, is the national food of Qatar. It is often made with lamb or chicken and is slow-cooked to give it depth of flavor. Seafood and dates are popular foods in the country.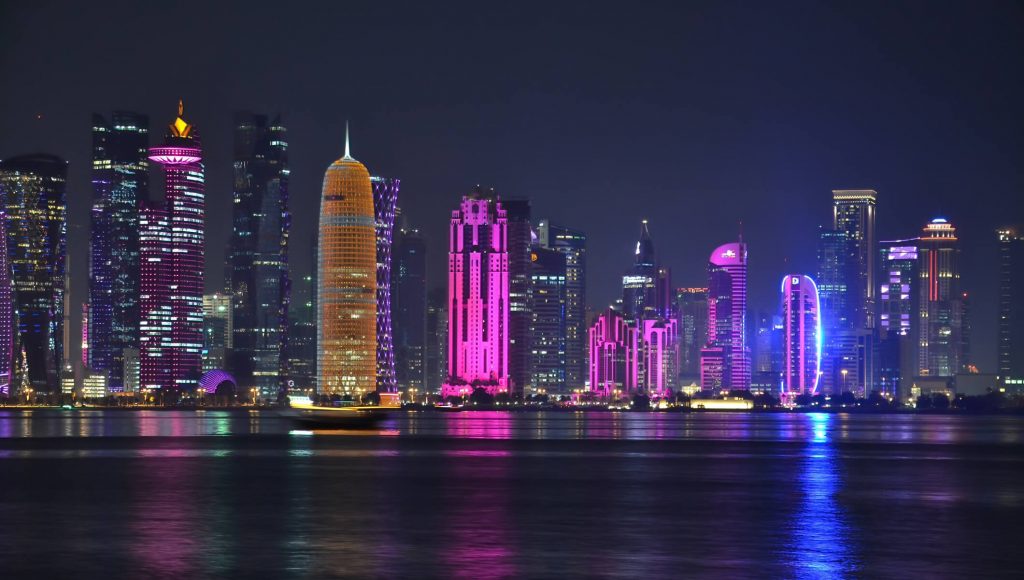 Nightlife in Qatar may not appear as exciting to tourists as it does in the Western world. In Qatar, as in other Arabian countries, there are limitations and prohibitions at night. Furthermore, religious leaning is another explanation for the lack of vitality in Qatar's nightlife.
Because the majority of the people here are Muslims, they are not permitted to use alcohol. As a result, with the exception of a few upscale hotels, alcohol is typically prohibited in Doha.
However, there are few specific venues where tourists can enjoy clubbing or dancing with loved ones at night. There are various hotel bars for tourists to the region, which has a huge domestic population and a significant tourism economy. The city's nightlife revolves around its hotels, each of which offers a unique bar experience.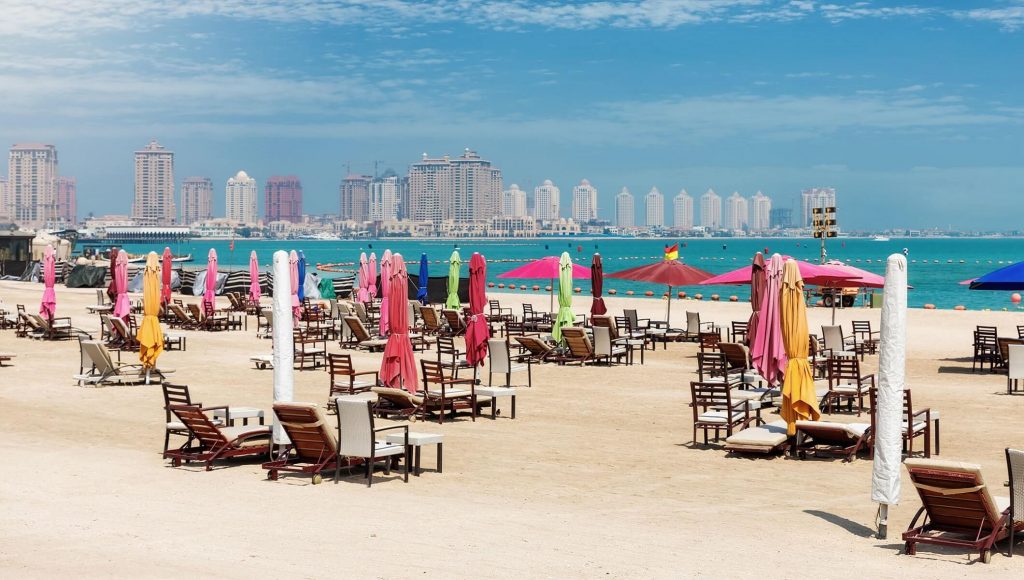 Qatar is a perfect destination for amazing beach vacations, with approximately 560 kilometers of coastline and beautiful beach weather for much of the year.Beach culture is in the country's DNA, and whether you choose to soak up the sun with a book or let the kids play themselves securely, the country's beaches, both public and private, are ideal.
In Qatar, winter and spring mean one thing: beach time. Because the weather is great for a swim in the water, we've compiled a list of the best public beaches in the country where you can soak up the winter sun.Katara Beach, located in Katara Cultural Village, is one of Qatar's most kid-friendly beaches.
Pack some sunscreen and choose your favorite sand beach in Qatar.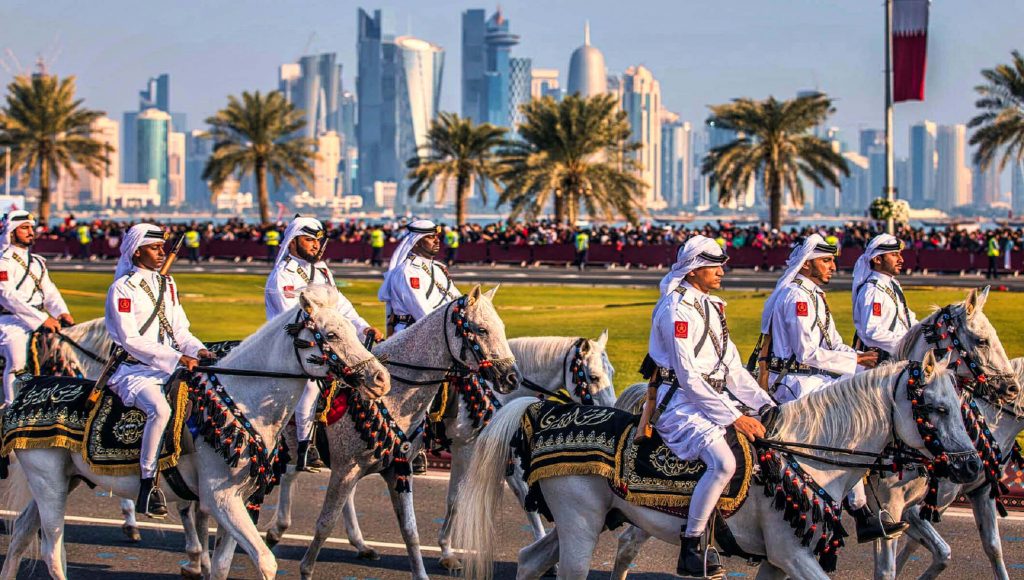 Festivals & Events in Qatar
Qatar provides a wide variety of fun festivals and events all year round. While some events highlight the nation's rich cultural legacy, others highlight its slick modernity and global perspective.
From galloping camels to virtuoso famous chefs, or from the peaceful sight of dhow vessels lining the coastline to brilliant fireworks displays, there is no dearth of variety in the festive pleasures offered here. Some events in Qatar are deeply rooted in sacraments, while others honor artists who push the boundaries of creativity. When you next travel to Qatar, put some of these fantastic festivals on your calendar and plan to attend.
Qatar observes several public holidays. The two weekend days are Friday and Saturday.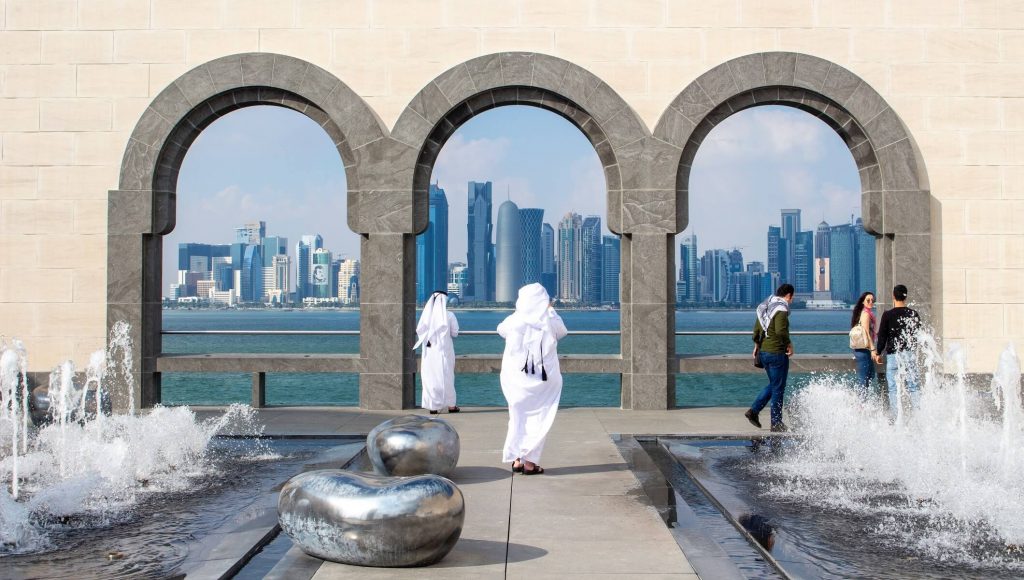 Traditions & Customs in Qatar
Qataris are Bedouin descendants who have retained a culture of gracious hospitality. Qatari society, on the other hand, is generally conservative and largely influenced by Islamic norms. Alcohol usage, for example, is frowned upon, while it is permitted at a small number of hotels catering mostly to foreigners. Similarly, attire is often modest and traditional. Qatari Arab males often wear a flowing white shirt (thawb) with a head scarf (kaffiyeh) tied with a rope (iql).
Qatari women's dress, while still modest, is far less formal than in neighboring Saudi Arabia. Many women still wear the full-length black cloak (abyah) over Western attire, while others merely wear the veil (ijb). Their traditional attire is frequently embellished with gold or silver embroidery. The sexes are traditionally segregated in public.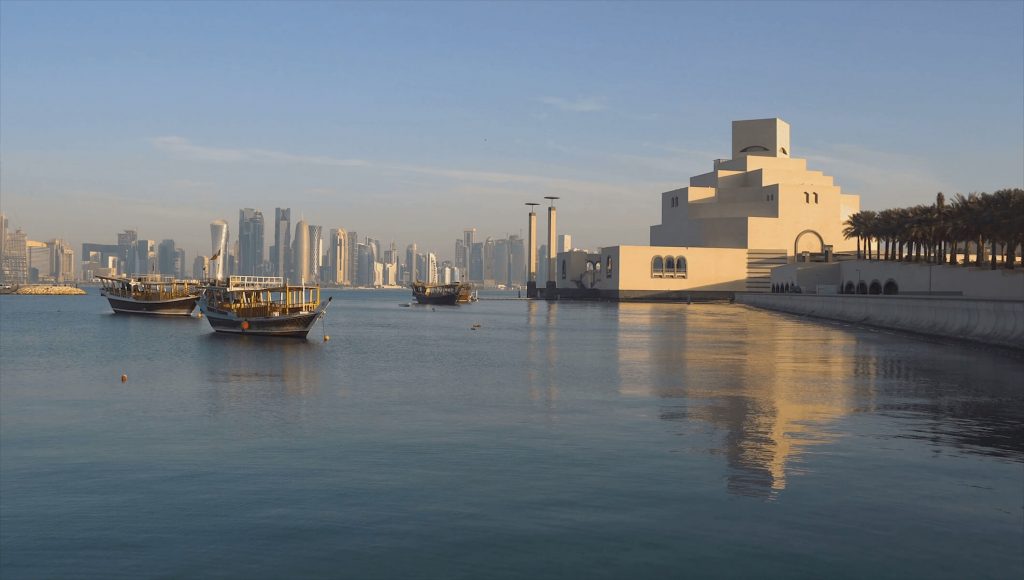 Qatar's culture is similar to that of other eastern Arab countries and is strongly influenced by Islam. Qatar's National Day, celebrated annually on 18 December, has played an important role in developing a sense of national identity. It is celebrated in commemoration of the succession to the throne of Jassim bin Mohammed Al Thani and the subsequent unification of the country's various tribes. Since 1 July 2008, Hamad Bin Abdulaziz Al-Kawari has been the Minister of Culture, Arts and Heritage in Qatar.
Football is the most popular sport in Qatar, both in terms of the number of players and spectators.
Several prominent members of the Al Thani family, which rules Qatar, are major collectors of Islamic and contemporary art.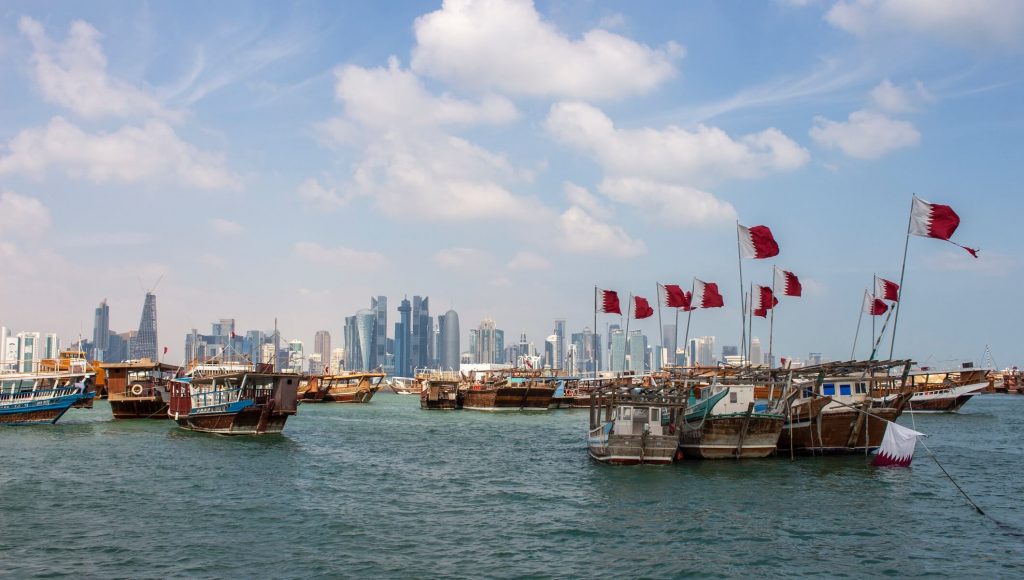 Stay Safe & Healthy in Qatar
The emergency number for police, ambulance or fire brigade is 999.
Qatar stands out clearly from the surrounding region, there is no war, no conflicts and hardly any crime.
Western women travelling alone are sometimes stared at by local men, along with other unwanted curiosity seekers. However, this is more of a nuisance than a threat, and Qatar officials deal harshly with any complaints of harassment. 
Driving on the roads is probably the biggest danger to your well-being. Although safer than most other Asian and Middle Eastern drivers, Qataris often ignore traffic rules and are intolerant of pedestrians trying to cross the road. Be safe when walking near or across major roads.
How it works
Discover & Connect
Understand why Travel S Helper helps businesses and communities.
01
Find Interesting Place
Easily find interesting places by local experts, save time by checking listing features online.
02
Community
Visitors discuss listings to share experiences, so businesses get reputation consolidated.
03
Feedback
Organically, all the crowd gets qualified info about places of their Neighborhood - this is Travel S Helper.